Bevan Manson, an accomplished jazz and classical musician/composer/educator, contacted me last November to shoot photographs for his upcoming CD. With the signature piece entitled California Concertino for Flute & Chamber Orchestra, Bevan wanted something that said California.
He suggested a favorite hiking path of his that boasted great ocean views. I suggested an alternate location in Ventura Harbor. I had photographed a doctor's family there a month earlier and, as the shoot was ending, noted a patch of golden dune grass that would make a nice foreground element. The mountains behind would complete the picture frame.
The location is also handy because the beach is very flat, and during a low tide, provides a glassy surface that makes cool reflections. (And, if the weather is foggy, the harbor has sailboats that can provide a decent background.)
I asked him to wear a beige jacket if he had one and dark slacks. So he and his lovely wife Jennie (also an accomplished musician) met me there in late afternoon. The very first frame I shot was used for the CD cover.
It's a quirky thing: often the very first or very last frame is the winner. This isn't entirely accidental. I shot the first frame of Bevan before he was ready. He was looking down, being careful not to disturb the grass, and the shot was not posed. His slight learn forward creates a kinetic effect that serves the image well. The other frames are good, too. Just not as good.
Last frames are often winners because the subject relaxes after the shoot is "over" and falls into a natural pose that no amount of direction can obtain. I've learned to watch for it and snap that last shot.
So I knew I had one solid idea for the photo. What else could I do? I thought it would be interesting for Bevan to be lifting a bass-clef symbol from the sea with kelp hanging off it, but there wasn't time to find such a prop. I asked him to bring a conductor's baton and music stand to see what we might do.
I also brought a conch shell as a prop. What seemed like a cool idea turned out corny. Ya never know.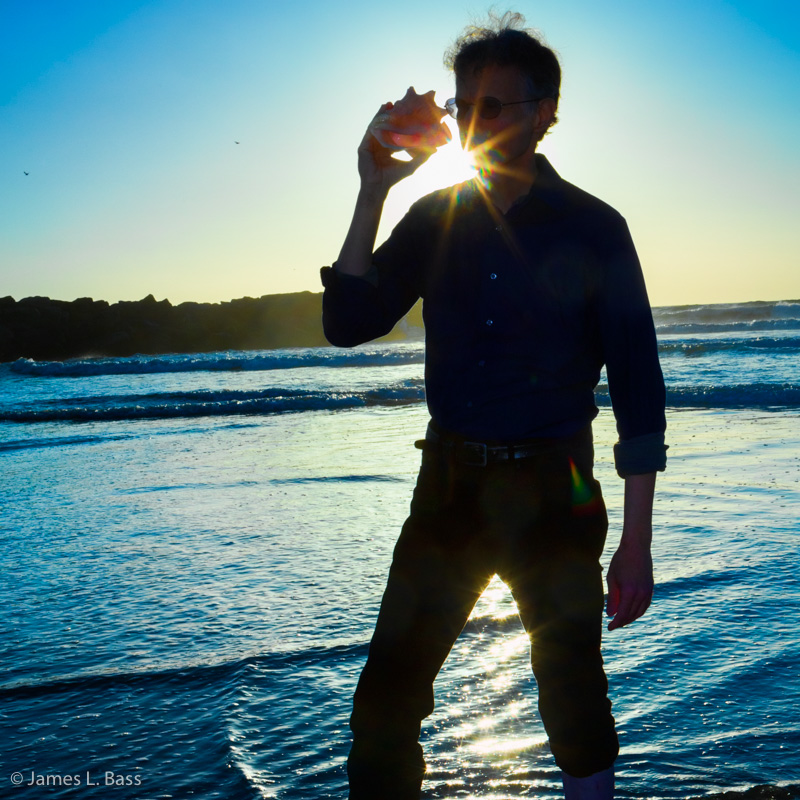 Finally, another image I liked and styled with Photoshop.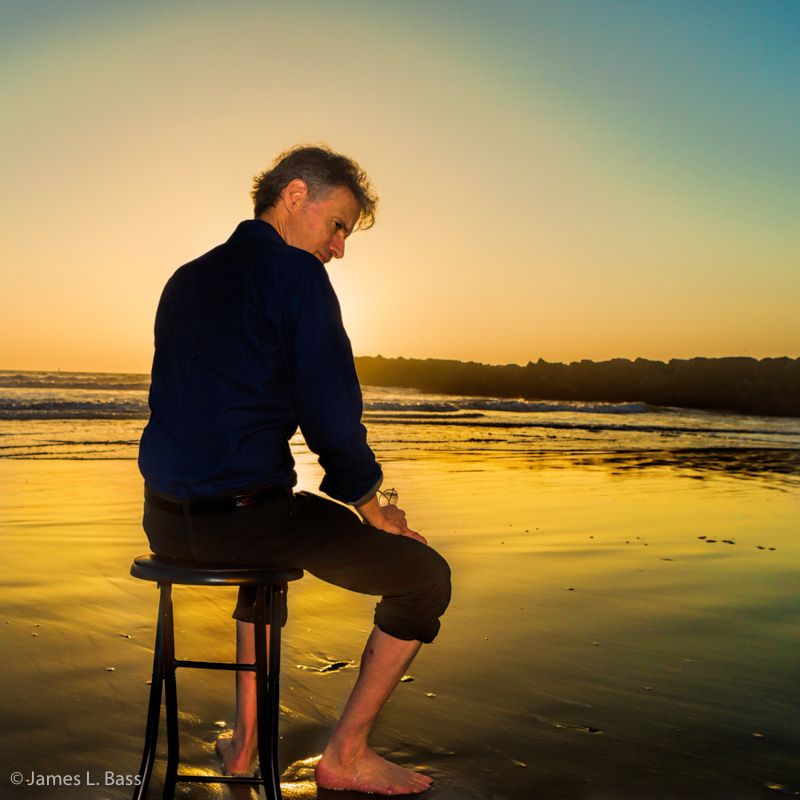 You can view the finished album cover here at Amazon.