What makes a scenic image endure?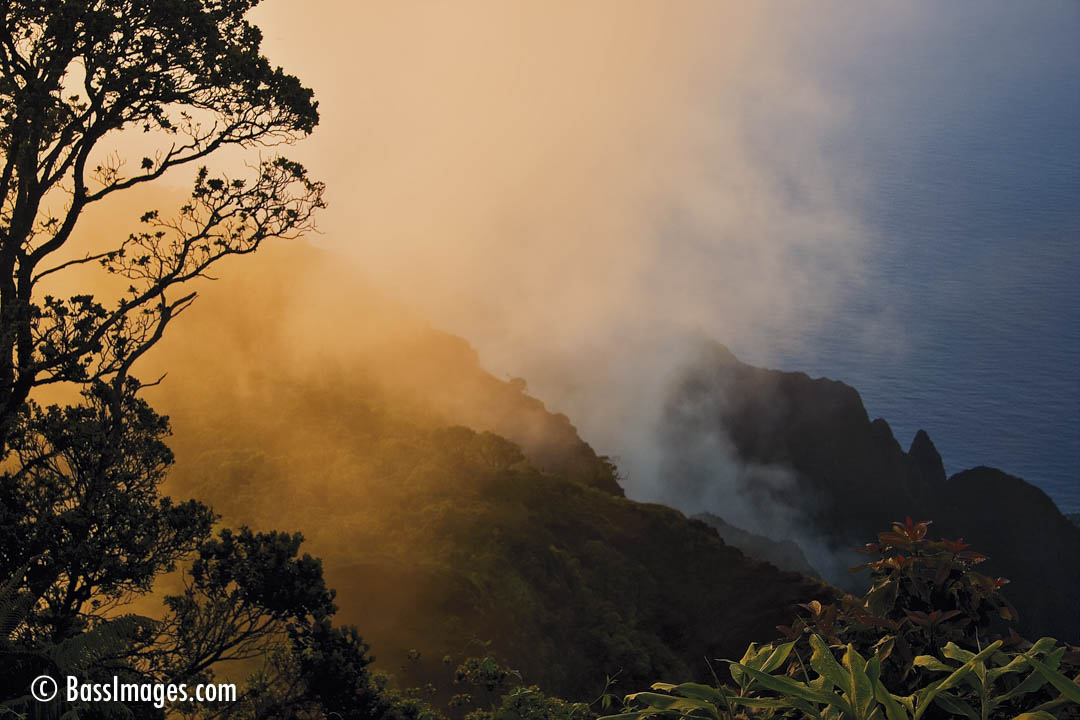 What makes a scenic photograph interesting enough to hold interest over time? Portraits are easily explained because the human face can register and communicate many things at once and be open to interpretation that keeps us looking. The Mona Lisa is exhibit A.
But landscapes are essentially static. Mountains do move, but not fast enough for us to notice. However, two things do change:
weather
the light, which changes shadows (thus the apparent shape of things) and the color of the landscape
The tension between the immovable and the fleeting makes things interesting–at least that's my theory and I'm sticking to it.
Here are some of my images that I cared enough to frame and hang over our mantel.
Kalalau, Hawaii
The first three (including the one on top) show the Kalalau overlook in Kauai. My wife, daughter and I arrived during a rain storm just after lunch. Had we not booked a nearby cabin months in advance, we would have left. Instead we holed up for a couple of miserable, wet hours. Just before sunset the weather began to clear so we decided to have another try.
We struck gold. The setting sun and lingering mists produced a dazzling light show, which, combined with the stunning cliffs dropping a mile to the sea, made a series of great photos possible. Right place + right time = you look like a genius.
Ventura Harbor, California
The second image I shot at Ventura Harbor on Valentine's day 2015. This was photographed with purpose. I looked for a spot that offered detail in the foreground and out to the horizon. The clouds filled the sky with more detail. I waited for 45 minutes, taking exposures slow enough to abstract the waves, but fast enough so they'd retain their shape. Then I watched as the sun set and the sailboat slowly moved across the spot where it aligned with the sun. Click.
West Fork Trail, Sedona Arizona
In 2007, I was in Arizona for a photo shoot and arrived a day early to photograph the scenery. I got a tip that I could find some autumn color on the West Fork trail. I grew up in the east and miss the autumn color of my youth.
When I came upon this patch of trees backlit by the sun, I shot a couple of frames and moved on. Little did I know that this would become a family favorite. There is so much going on in this image that escapes a quick glance, we keep discovering new details. It endures.
I claim no artistic credit. Yes, I hiked out there with my camera. I came, I saw, I clicked.
Now, for a serious scenic, by Michael Frye
Yosemite has to be one of the toughest places to find a photograph that hasn't been taken before. That's what makes this image so noteworthy. Not only is it unique and beautiful, but the degree of difficulty is, shall we say, an 11. There are only 10 days a year when this image is possible and the weather has to cooperate.