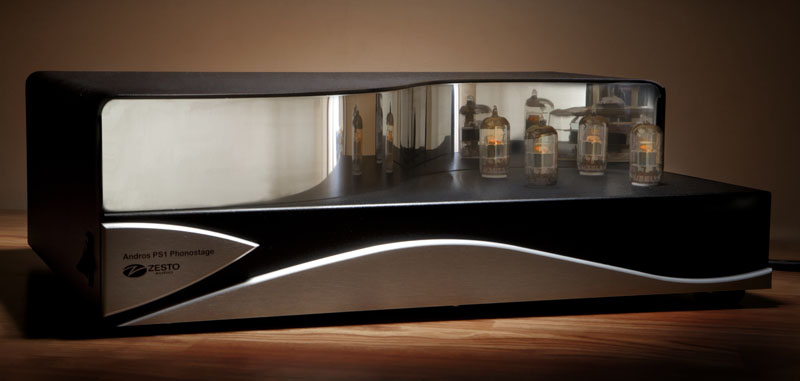 George and Carolyn Counnas are a Mom and Pop success story in the world of analog audiophiles.
They founded Zesto Audio in Thousand Oaks in 2011 to engineer and manufacture high-end components for very sophisticated music lovers, those who eschew the bits and bytes of digital music for the dulcet tones of vinyl.
Using Warm Colors to Evoke Musical Warmth
They hired me to photograph their first product, the Andros PS1, a $4,000 phonostage. I'm not qualified to say much more, so just visit their website.
With it's curving mirrored surface, it was a challenge to light and photograph. It has a lovely sculptural element I wanted to show off.
Analog audio is warmer to the ear, but how does one communicate that to the eye?  I shot it on wood and emphasized deep, warm tones. I made sure that the glow of the tubes registered.
For some reason, this is unusual in the market where the images favor the technology, not what it evokes. According to Carolyn, the image got them attention.
The Andros has won numerous awards and is selling well. A second product is in the pipeline.
An Inspiring Business Story
Carolyn, a fine artist, heads up the marketing.  George is the engineering brains and a lifetime audio pro. Neither had much background in launching a business. It's one thing to have a great idea and a great product, but how do you turn that into a profitable business?
They found a goldmine of advice from the Economic Development Collaborative –Ventura County.
The EDC-VC provided valuable business consulting support to George and Carolyn, as they launched their business venture.
Carolyn said: "Originally we wanted advice on international distribution. The EDC-VC's Ray Bowman is an expert in that field. We walked into our first meeting with Ray and there sat Lance Korthals of Audera, who is an advisor in sales, marketing and new product development."
But wait, there's more.
George added, "Here was a man whose expertise and background comes from the audio industry — working for JBL. It doesn't get any better than that. This wasn't general business advice. We had someone who had worked in the trenches of the high-end audio industry, who had all the stories, bruises and wisdom to prove it."
To say that the EDC-VC, which has a mission to promote business and employment in Ventura County, California fulfilled its mission with Zesto Audio is an understatement.
Meeting Business Milestones
Carolyn said they learned so much about building a business, "We were required to meet significant milestones for this counseling in sales, financing and PR. As a small business owner, they helped us focus to set goals and priorities and how to achieve it. They helped lay out the Big plan so you could grow into it. The VCEDC has special counseling for manufactures to help us navigate the complex world of the many certifications required for international sales."
More Awards, More Products
Since I started working on this post, they've won another award and they've delivered their second product to be photographed by me. More on that to follow.
How Much Does a Photograph Matter?
Carolyn called me after their first trade show to say that people were coming to the booths with their advertisement in hand. The product photo grabbed their attention.
Recommending me to others, Carolyn said. "I love working with Jim Bass to do our photography. He always tells a story, not just a beauty shot. He really captured the elegant look we wanted with the warm feel  and tone that a vacuum tube product produces."
Aw, shucks…